Shiva Natraja Brass Statue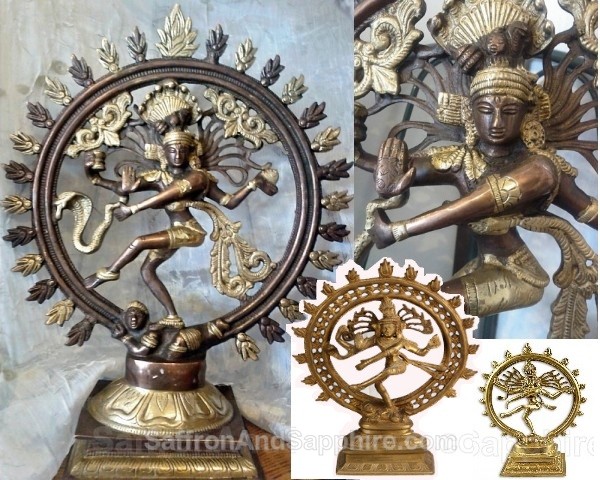 Shiva Natraja Brass Statue
Shiva Natraja Brass Statue
The Shiva Natraja - also known as Dancing Shiva - is a depiction of the god Shiva as the cosmic dancer who performs his divine dance to destroy a weary universe and make preparations for god Brahma to start the process of creation. It is also perceived as a depiction of life as a balancing act of good and bad, and combining creation, preservation, and destruction
In his upper right hand, he holds a small drum, and the lower right hand is making the gesture of fear-negating. His upper left hand makes the gesture of half-moon and it holds a flame which symbolises the fire that ultimately destroys the world, whereas the lower left hand points towards the lifted foot which symbolises favour or grace for the devotee.
Lifting his left leg, in an aureole of flames and balancing over a demon in human figure who symbolizes ignorance and cruelty.
Around, the circle of flames represents the power of wisdom and truth, as well as the mantra OM.
Statue available in different sizes.
Medium - 22cm(H) - €99.00
Large - 39cm (H) x 32cm (W) - €275.00
| | |
| --- | --- |
| | |