Relaxing Music CDs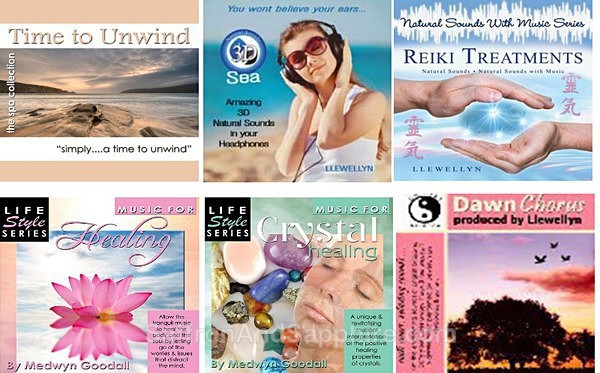 Relaxing Music CDs Collection - Sounds of Nature
Time to Unwind Relaxation CD - €9.99
Golden tones of strings, guitar and voices blend together to give the unique sounds of a breaking dawn and sunrise - The perfect way to chill out and unwind by losing yourself in the music allowing your mind the freedom to relax the 'time to unwind
Amazing 3D Natural Sounds - Sea - €14.99
'Its like actually being there!' 'Its like 3D surround sound in your headphones!' 'Incredible....has to be heard to be believed...amazing!' Includes introductory track plus an hour of natural sounds of the sea like youve never heard before. Recorded by Llewellyn using 24 Bit Digital Binaural Microphones.
Natural Sounds with Music - Reiki Treatments - €14.99
This CD contains 12 specially timed tracks (5 mins each) of natural sounds and natural sounds mixed with music. Natural sounds include: calming waves, gentle river and birdsong.
MUSIC FOR HEALING -€9.99
Allow this tranquil soft guitar music to heal the body and the soul by letting go of the worries and issues that distract the mind. Ideal for both therapists and home use
CRYSTAL HEALING - €9.99
A unique and revitalising musical interpretation of the positive healing properties of crystals. This album has been compiled by Medwin Goodall in close collaboration with various alternative therapists. An essential tool for both the professional therapist and the absolute beginner
DAWN CHORUS CD - €9.99
Featuring the naturally soothing sound of birdsong such as the willow-warbler, robin and songthrush - a virtual choir of birds to help carry worries away, with soft, gentle music - keyboards and guitar.